Tutorials
Download YouTube Videos & Convert All Video Formats
Convert MKV / HEVC to MP4 & Download YouTube Vids 2019
Today we're going to share with you a rather impressive tool for converting (and compressing) 4K video! Need to convert MKV to MP4 or convert HEVC to MP4? No problem! Introducing WinX HD Video Converter Deluxe, the best all-in-one solution for easy video conversion. Convert your 4K videos shot on GoPros, DJI drones, DSLRs, iPhones or Android devices in seconds to minutes with a simple drop and click interface.This tool is much more than a simple converter though, it can even download entire videos from the web (*cough* download YouTube videos).
Why Convert Video (4K or otherwise)?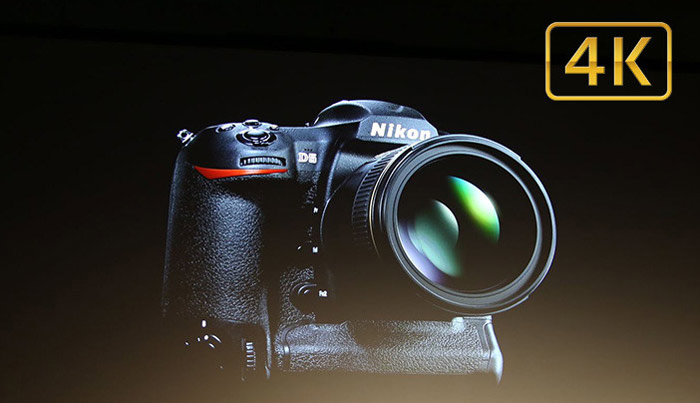 A commonly asked question is why would I convert video footage in the first place? Often times expensive or high-end cameras or filming equipment will recored footage in an obscure format. This includes, but is not limited to, MKV and HEVC. Not all devices can playback all formats. MP4 is basically the universal video format that 99.9% of device can play. Therefore, it's a good idea to convert video footage to MP4 to actually be able to play it back on your device.
Beyond just being able to play the footage, converting using something like WinX HD Video Converter Deluxe also compresses (shrinks) the file size dramatically. For example, before I upload ANY video to YouTube, I compress it. In most cases, the compression is close to lossless – i.e. the video file doesn't lose quality, but the size of it is drastically reduced. This can help with video upload times to sites similar to YouTube or DropBox for sharing.
Why Pick WinX HD Video Converter?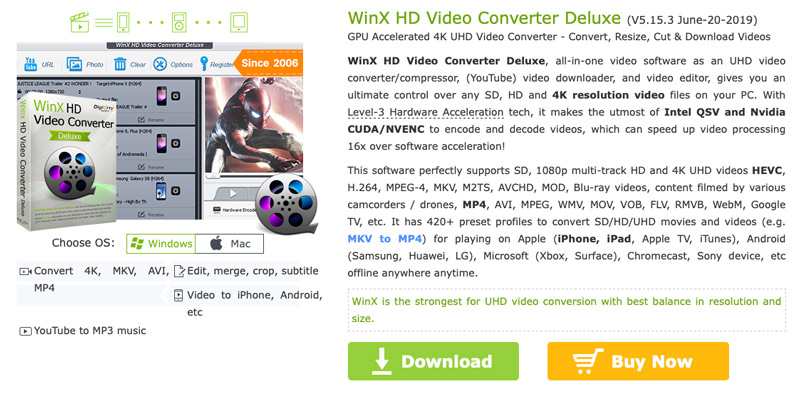 With so many options to choose from, why pick WinX HD Video Converter? For one, it supports a wide array of 4K video formats (over 200), including MKV, HEVC, H.265, M2TS, etc. It can also convert 4K or 1080P videos for the newest devices like the iPhone XS / XS Max, iPad Pros, Xbox One, Sony PS4, Samsung and Huawei smartphones, and so much more. The software even includes edit, trimming, cropping, and split and merge functionality for splicing together multiple videos. Finally, it's fast. Like really fast. You can convert your large video files in a matter of minutes.
How to Convert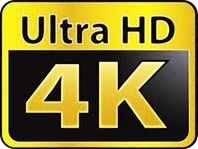 It's actually incredibly simple to take your footage and convert/compress it. Simply click the video button at the top and point it at the file (you can also drag it into the interface). Once opened, select your conversion option. The tool does a very good job of auto selecting settings too that matches the existing resolution, so you don't have to fuss with changing that. Next, double check you have the proper file path selected for the program will save to. You can just click browse to easily change this. After that, it's as simple as clicking the big blue "RUN" button. You can of course also set other parameters for the conversion inside "Options".
It's honestly as easy as it could possibly be. The creators of this program really did a great job when designing the UX, or user experience. It's very intuitive.
Bonus: Download YouTube Videos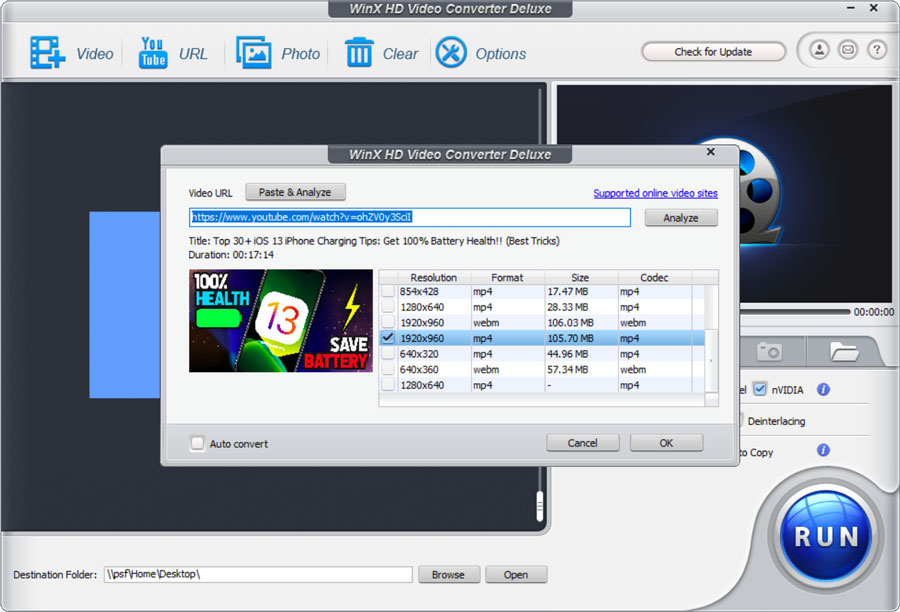 If you've been looking for a way to simply and easily download YouTube videos too, WinX HD Video Converter Deluxe can also accomplish that task. Though, for educational purposes only, we'll briefly overview of how to download your own videos that you hold the exclusive distribution rights to. Now this is ideal if you need to obtain a higher resolution of your video than what YouTube provides in their video manager backend. For whatever reason in 2019, you still cannot download your own video in anything higher than 720P regardless of the source. This helps with that. Simply click the button up at the top, paste the URL of your video, click analyze, select the format, followed by "OK", and then click the big blue "RUN" button.
Free WinX HD Video Converter Giveaway
If you'd like to win a copy of WinX HD Video Converter for free, simply visit the company's giveaway page and instructions listed here. You can find the full software available for both trial and purchase here. If buying some of the best software available isn't your thing though, you can also try their free alternative dubbed 5KPlayer, available here. It features a number of the same features and functionality, but with less options, and it will even tackle obtaining your own YouTube videos. Click here for 5KPlayer.