Jailbreak iOS 12
unJailbreak iOS 12 – 12.1.2 Remove & Uninstall Unc0ver
How to Delete Cydia and Uncover Jailbreak iOS 12.1.2
Unjailbreak iOS 12 Tutorial to Delete Uncover and Uninstall Cydia – Once you've jailbroken iOS 12 – 12.1.2, you may want to remove the jailbreak (aka un-jailbreak), all Cydia tweaks, the Unc0ver app, and even Cydia entirely to start from scratch. In today's tutorial, we'll walk you through the very simple steps required to start fresh and try the iOS 12.1.2 jailbreak again. This is useful for those who simply cannot properly use Cydia on iOS 12.
How to Un-Jailbreak iOS 12.1.2 Unc0ver
In addition to following the steps listed below, I recommend watching the above video, which contains a lot of extra unjailbreak information for uncover iOS 12.
Step 1: Disable auto lock (this is important later). Launch Settings and navigate to Display & Brightness > Auto-Lock. Set this feature to "Never". Also ensure that you are not in low power mode, which will automatically lock your device every 30 seconds.
Step 2: Ensure that you have the latest version of the unc0ver iOS 12 jailbreak installed in your device. To do so, delete the app from your device and obtain the latest version from one of the two methods linked below in the download section.
Step 3: Open the uncover iOS 12.1.2 jailbreak app on your device. Tap Settings at the bottom of Unc0ver, scroll down and toggle on "Restore RootFS (rec0ver)".
Note: While this process will not delete any of your personal data, it's a good idea to create an iTunes backup (with a computer) just in case. Furthermore you may need to use the data backup later in this tutorial should you choose to remove the Cydia icon. If you don't have access to a computer, borrow a friends'.
Step 4: Navigate back to the main Jailbreak screen inside the unc0ver app and tap on Re-Jailbreak (this may also say Jailbreak depending on whether you've rebooted).
Step 5: When prompted, tap "Ok" to continue the RootFS restore with the unc0ver jailbreak. This process may take upwards of 15 minutes (it's faster on newer devices). Once done, you'll be left with the unc0ver and Cydia app icons.
Step 6: Simply delete the unc0ver app if you no longer wish to use it. As for Cydia, this is where things get tricky. It's technically not on your device. The only way to fully remove the icon is to preform a full settings erase (not a restore, that will lock you out of being able to jailbreak).
Step 7a: If you wish to erase all settings, this will wipe your personal data. You'll need the iTunes backup we mentioned above. If you wish to proceed, simply open Settings, navigate to General > Reset > Erase All Content & Settings and tap through the prompts. Once the reset is done, you can plug into iTunes and restore your backup. It's important that you DO NOT perform an actual "Restore" in iTunes, as that will upgrade your device and lock you out of the ability to jailbreak. Simply restore from an iTunes backup.
Step 7b: If the icon doesn't bother you, stick it in a folder to hide it. There will be a way to fully remove it without the full erase soon. Much easier, right?
Jailbreak iOS 12.1.2 after unJailbroken on iOS 12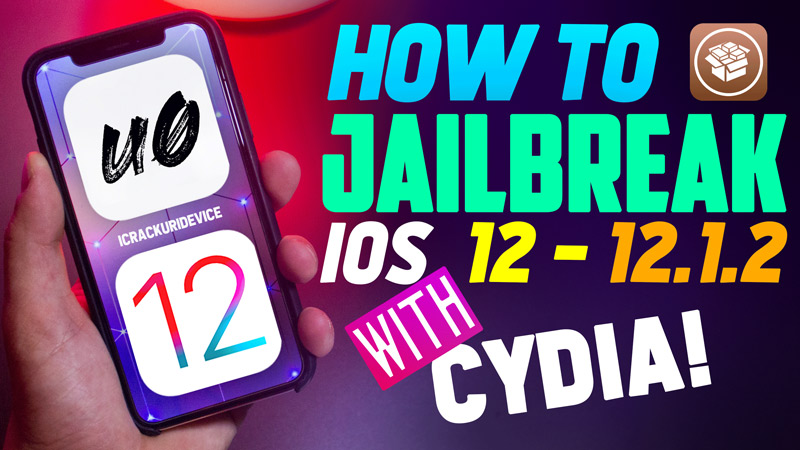 Once you're no longer jailbroken, you can re-jailbreak iOS 12 by clicking or tapping here.
iOS 12.1.2 unJailbreak Downloads
Thank you for following our tutorial to remove the jailbreak iOS 12 – 12.1.2 without a computer. We hope you'll follow us on social media for updates on new iOS 12.1.2 jailbreak tweaks, Unc0ver releases, future jailbreaks, and much more (Twitter / Facebook).